Total Network Security Management
Our team can augment your current network security team or serve as your only network security team. It's completely up to you. Use your network and we can maintain the firewalls, routers, computer antivirus software, etc. Or, we can do it all and be your total managed network provider.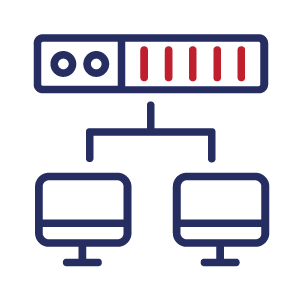 Catching Viruses and Malware at the Firewall
It is a common belief that putting antivirus software on all computers is all you need to do to protect your network. In reality, once a virus makes it to a computer, it's on your network. We take a proactive approach to warding off viruses and malware at the firewall, protecting your entire network.
Cellular Internet Backup
Businesses rely on good internet coverage. So when outages happen, you can lose productivity time and potential sales. For companies who use AOP's Managed Network Security Services, we set up a cellular internet backup so that even during an internet outage, you keep working.
Request a Managed Network Services Consultation
Wondering if your network lacks the security necessary to protect it? Talk to our team for 30 minutes for free. Even if you don't choose us to manage your network, we'll talk you through your options.
What makes AOP's managed security services unique?
Total Security Protection
We're vigilant in doing all the ongoing maintenance and security updates necessary to protect your network. Network security is not a one-and-done process. After setup, you have to do the continuous work necessary to keep it secure. Our experts will monitor everything and look out for your business as if it was our own.
Fully Managed
A firewall can protect and secure your business from most viruses and malware. But with time, a lack of maintenance will catch up with you. Viruses, hackers, and the harmful techniques they use to breach your system will adapt over time. If you're not adapting to them, you'll be left vulnerable.
Reliable Proactive Protection
24/7 network security monitoring to prevent threats. We'll update your firewall rules on an ongoing basis, provide web content filtering on every device, and block threats before they reach your network.
Frequently Asked Questions
We aggressively recruit and hire the most-talented IT engineers, service and support staff. Below, you will find common questions and answers related to our offering.
Managed network services include managing networking applications, monitoring the network, and ensuring it is operating well. Hiring out help with managing your network can help free up time for your IT team to focus on other areas of your business or augment a small in-house team.
Hiring a managed network services provider can provide cost-reductions while adding expertise that is hard to find when hiring an in-house team. You can also free up time to focus on core business functions. Through allowing your managed network services provider to manage and negotiate your vendor contracts, you might also save money.
Yes, hiring a managed network services team can ensure you have the resources you need long-term. Whether you need to expand or limit the services you're paying for, an outside provider can help you no matter what assistance you need.
Our dedicated team of network specialists are there when you need us and are all stationed right here in the U.S. We take time to explain things to you and look for proactive ways to protect your network and keep your business running smoothly.