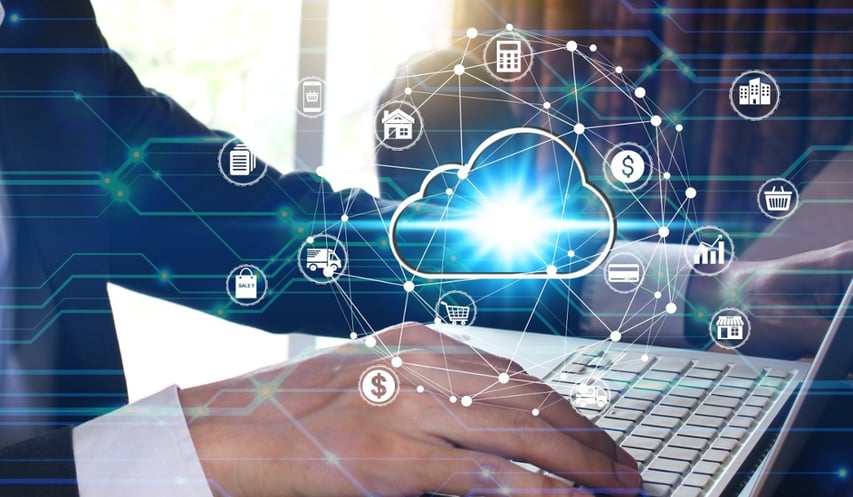 As a small business owner, you want to do everything you can to give your enterprise a competitive edge. The flexibility that comes along with cloud computing solutions for your business operations can make all the difference in efficiency, scalability, and, ultimately, savings.
Businesses of all sizes are increasingly using cloud computing services. Additionally, the budget businesses devote to cloud computing is expected to grow by 18.4% in 2021. And the payoffs resulting from cloud computing aren't limited to large businesses. Your small business can also benefit.
What Exactly is Cloud Computing and How Does it Work?
Cloud computing refers to hardware, software, and infrastructure services that are accessed via the internet. Cloud computing providers eliminate the need for on-site hardware infrastructure or servers that run and maintain applications integral to business operations.
In essence, cloud-based services offer an IT architecture that enables companies to engage with services remotely. The net result for businesses is an increase in computing power and overall efficiency.
Advanced Office Products Offers Advanced Cloud Services
Advanced Office Products (AOP), based in Lake Charles, LA, offers many competitive cloud computing solutions, all packaged together as Advanced Cloud Services (ACS). ACS is a suite of tools for virtualizing any business's operations and protecting those operations from catastrophe while simultaneously providing accessibility from anywhere in the world. ACS offers website hosting, data storage, app development, and other customizable services.
AOP is committed to ensuring that ACS is a simple turnkey solution for your small business needs. AOP has spent the time to build its own cloud infrastructure. AOP is not a reseller of existing services, and that ensures better service and lower prices than its larger competitors.
Why Should Small Businesses Invest in Cloud Computing?
Perhaps you're wondering whether recent enthusiasm about cloud computing is just a fad. Maybe you're still on the fence about whether your business could benefit from cloud computing solutions.
Put those thoughts to rest. Here are 10 reasons small businesses should embrace cloud computing services.
1. No Downtime
Continuity in operations is a must for maintaining efficiency across all teams and departments within a business. When you rely on cloud computing providers, you are in effect guaranteeing that your network and data management capabilities won't ever be interrupted.
2. Technical Ease and Reliability
Many small businesses end up having to invest significant resources just to maintain the technical infrastructure that allows them to do everyday work. A lack of technical knowledge or investment within a business can inadvertently add unnecessary steps and complications to the company's workflow.
Cloud computing providers can circumvent these kinds of problems. By relying on the expertise of a cloud services company, your business can forgo the numerous, inevitable small technical issues that get in the way of efficiency. Cloud services ensure ease and reliability.
3. Remote Data and Network Access
Cloud-based services enable employees to access your network, software, platforms, documents, and databases from anywhere on the globe at any time. Cloud services promote collaboration among geographically disparate teams, enhancing efficiency, communication, and visibility across all aspects of an organization.
4. Reduced Maintenance Costs
Buying and maintaining on-site hardware and software can be expensive, sometimes prohibitively so for small business ventures. Cloud management services eliminate the cost of purchasing expensive hardware yet simultaneously ensure equivalent functionality, allowing your business greater flexibility to spend.
5. Eliminate the Need for On-Site IT
Perhaps your business lacks the resources to hire a full-time IT team. Reliance on cloud-managed services ensures you won't need one. Servers and other hardware are off-site and will be updated and maintained reliably by a cloud services provider. This eliminates the cost of maintenance and enables you to focus on the important things, like business success and growth.
6. Scalability
Small businesses have different IT infrastructure needs, which may change over time. Startups typically begin with very few employees but may grow incredibly quickly. Some businesses might require more bandwidth or other network capabilities during different times of the year or different periods of product development. Cloud services are a good solution. They allow companies to scale services and capabilities quickly and efficiently, without the cost and space issues associated with on-site infrastructure investment.
7. Data Security
All businesses are invested in keeping their data secure. Cloud storage providers have an incentive to prioritize data security and protect the information that is vital to your company's success. Cloud computing companies have the processing capacity and infrastructure to make sure that data is safe and legally compliant.
8. Disaster Recovery
Companies in Texas and Louisiana often have to live through natural disasters like floods or hurricanes, events that might disrupt vital infrastructure or networks. Cloud services guarantee regular backup and timely recovery of your company's data, ensuring redundancy and security in the face of natural disasters.
9. Communication and Control
Growing reliance on remote work and remote data access makes for increased cross-functional collaboration between teams in different geographic areas or time zones. Many small businesses have recognized the need to put a premium on centralized control of documents and other files. Cloud services promote the control and management of documents and other important business information by enabling their storage in a centralized location that is always accessible to all employees. Employees will always be up to date and on the same page.
10. Savings, Savings, Savings
Simply put, the use of cloud computing services results in savings. Cloud computing promotes efficiency, and since time is money, savings. Cloud computing reduces the need for hardware infrastructure investment, maintenance, and changes. The result? Savings. When you add it all up, the flexibility and savings that come from cloud-based IT management and services are clearly worth the investment for small businesses.
Advanced Cloud Services Will Benefit Your Small Business
As you can see, there are several real and tangible benefits that businesses see when they adopt cloud computing services. By partnering with AOP, your business could enjoy those benefits too.
AOP integrates cloud-based services with many other IT support and network services, offering you a broad palette of business options as well as customer-focused expertise and dependability. ACS offers cloud services that seamlessly bring technology and business together.