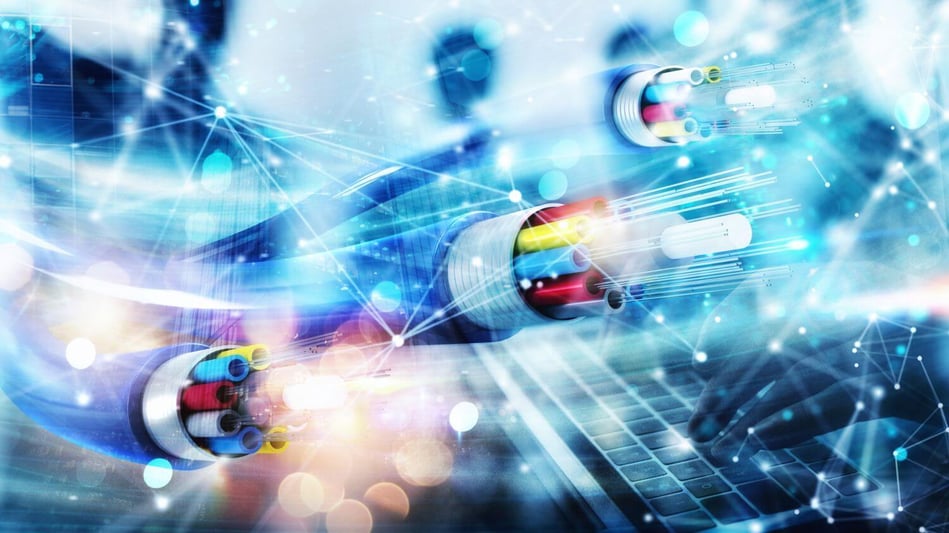 Many people can receive wonderful benefits from a fiber-optic internet installation. This technology is relatively new which is why many are left wondering if the benefits of it outweigh the cost and cons. While it is a newer technology, many businesses have been able to achieve far higher returns on their investments in fiber compared to broadband internet.

Let's take a look at 11 business benefits of fiber internet connectivity that your business could benefit from.
The 11 Business Benefits of Fiber Connectivity
Fiber-optic connectivity can provide many great benefits to companies of all sizes. This particularly applies to organizations that use the cloud for apps and data storage. Coupled with voice-over-IP (VoIP) telephony, fiber is a powerful combination for business communications.

In this in-depth blog, you will learn about 11 of the major ways your company can benefit from fiber connectivity. Businesses need to ensure that their employees are able to stay productive with maximum uptime and high speeds. If there is ever an issue, they need to have a provider that responds quickly to get the problem fixed straight away.
Speed
What we are loving about fiber-optic internet is how fast it is in comparison to other options. Options are available that range from 5 Mbps to 100 Gbps. Even when your business is in high demand for internet access, it should not notice slower internet.

In fact, research indicates that around one week per year of employee productivity can be lost due to slow internet connections. It can sometimes seem like only a few minutes are lost when you're waiting for things to load. However, this can add up significantly over time.

Your internet connectivity should never be so bad that it inhibits your productivity. Instead, it should be a tool that supports your employee's desire to work productively. Gain back your freedom and productivity with this essential tool.
Cloud Access
The cloud is an incredibly important business tool for hosting, apps. From rom customer relationship management (CRM) tools to data storage, it is unbeaten. In fact, 96% of organizations are now using the cloud to some extent.

When you use fiber internet, you get faster access to your data and applications that are stored in the cloud.With fiber internet, your business is able to benefit from far fewer delays in being able to access cloud-hosted information via your SaaS tools and other platforms. This means that your sales and customer service representatives don't have to deal with long delays when looking to communicate with customers or prospects.

As businesses are becoming more attached to the cloud, fiber-optic is no longer a helpful resource, it is critical. Once you begin using fiber internet, you won't know how you ever worked without it.
Reliability
Significant reliability advantages are offered by fiber internet connectivity over copper internet connectivity. This is because fiber is far stronger than copper. One of the best things about fiber-optic internet is that it is not susceptible to inclement weather conditions.

Usually, bad weather can damage or stall data transmission via copper cabling. However, fiber is resistant to human and electrical interferences. Unless they're cut, they're basically indestructible.

As said before, unreliable internet connections can have a real cost to businesses. Any downtime that is unplanned can completely halt productivity and business communications. If your company relies on an internet connection to access applications or make phone calls, reliability is very necessary.
Signal Strength
When it comes to traditional broadband internet using DSL or Ethernet over Copper, as the user moves away from the switch, signal degrades. However, the signal strength of fiber-optic remains strong and doesn't degrade overly quickly over distance. If your business would benefit from better signal, fiber-optic is a great option.
Bandwidth
Businesses with a high need for data transmission will find it quite easy to hit the limit on your cable internet bandwidth. Fiber-optic internet isn't technically unlimited. However, the bandwidth offered is far higher.

On top of this, speed does not decrease as high demands are put on the network.
The following internet activities put higher than usual demands on bandwidth:


Cloud applications
SIP trunking
File sharing
Web conferencing
Streaming high-definition videos
You can recognize low bandwidth if you are dealing with delays, slow speeds, or pixelated video quality. If your current internet connection isn't able to support your company's bandwidth demands, you could likely benefit from an upgrade to a fiber-optic connection.
Symmetric Speed
Symmetric speed is a term used to understand equal upload and download times while on an internet connection. Fiber internet allows your employees to benefit from equal upload and download times. Symmetric speed isn't necessarily critical for business operations.

Though, it can be extremely beneficial. Studies show that today's employees are far more likely to upload files, video content, or make phone calls while trying to download content when they work than they were a decade ago. With symmetric speed, users are easily able to accommodate heavy demands on uploads and download simultaneously.
Latency
The term used to describe delays occurring while processing data via an internet connection is called latency. Fiber-optic internet is able to eliminate many of the prevalent latency issues that users experience on cable internet. This is particularly applicable when downloading or uploading a video or high-definition content.


Some of the many business benefits of lowering your latency are:


Improved collaboration between employees
Better voice quality for VoIP users
Downloads and uploads of large files without disruption
Ability to move more apps to the cloud

Security

Cable internet allows would-be hackers and information thieves to easily gain access to your business. This is due to cable tapping and other similar methodologies. The only way to actually penetrate fiber-optic internet is to literally cut the fibers.

This will only cause the signal to disappear. Fiber-optic internet is an extremely powerful way to increase your business's protection against cyber-crime. Companies who leak protected information can face harsh financial penalties as well as customer defection.

While most media coverage is focused on high-profile security breaches, companies of all sizes are at significant risk of an attack. An upgrade to fiber-optic won't completely remove all of your organization's current risks, it is an important means of secure protection.

Resistance to Interference

Copper cable internet that is able to support broadband is highly sensitive to electromagnetic interference. This can be caused by the proximity of heavy machinery. Fiber internet doesn't degrade or disappear with electromagnetic interference.

This means that if your organization shares a telecommunications room with others, fiber-optic is able to protect your connectivity from disappearing.

Cost Savings

Fast internet is almost always considered a productivity tool for businesses. As above, eliminating speed issues can often result in a week's worth of productivity increase every single year. If your business is currently suffering from unreliable connectivity due to your region or weather, you could be saying goodbye to thousands of dollars each year.

Productivity issues that are linked directly to slow or unreliable cable internet could easily disappear with fiber. More importantly, your business will gain significant scalability and flexibility with fiber-optic internet connectivity. A fiber connection can help you significantly if your IT team is hoping to be able to move more services and applications to the cloud.

SaaS, cloud storage, and VoIP are all great business services that have plenty of potential for savings costs. They all benefit from fiber connectivity significantly.



Support for HD Video

Within the world, many companies refer to teleconferencing and video conferencing as important tools for marketing, sales, and employee training. When businesses have a fiber-optic connection, businesses are easily able to increase their investment in video conferencing as a business tool.

Better yet, it can be done without sacrificing any available bandwidth. Research easily indicated that increase investment in video conferencing can save companies thousands of dollars per employees every single year, or even month if business travel can be cut.

What Are the Cons of Fiber-Optic Internet Service?
While they are only minor, the cons that are commonly associated with fiber-optic internet may include:


Limited access to providers
Financial investment in installations
Potentially higher monthly service fees

Despite the number of increased costs related to fiber internet service as well as the financial investment requires for installation, many businesses believe that they are able to achieve a high ROI due to productivity and availability gains.
The Bottom Line
If it isn't already obvious, fiber-optic internet is an essential part of any business armory. When you install fiber internet, you gain access to many substantial benefits that you won't find with other forms of internet. Are you ready for fiber connectivity?

To learn about all of the amazing benefits associated with fiber-optic internet connectivity for businesses of all sizes or receive a rough quote, contact an expert business communications consultant today to get started. Once you begin using the magic that is fiber-optic internet connectivity, you will never be able to go back.