A great classroom is one that keeps students engaged, no matter their grade level. Many teachers and educators have started using technology to help make lesson plans more engaging for their students.
One of the newest tools in the educational arsenal is the digital whiteboard. This technology has been shown to increase engagement in the classroom and make learning more enjoyable for students. These whiteboards allow teachers to introduce new educational content easily while providing a range of features that help foster collaboration between students.
Want to learn how you can incorporate these smart solutions?
Read on to find out how this technology can be put to work assisting your students today.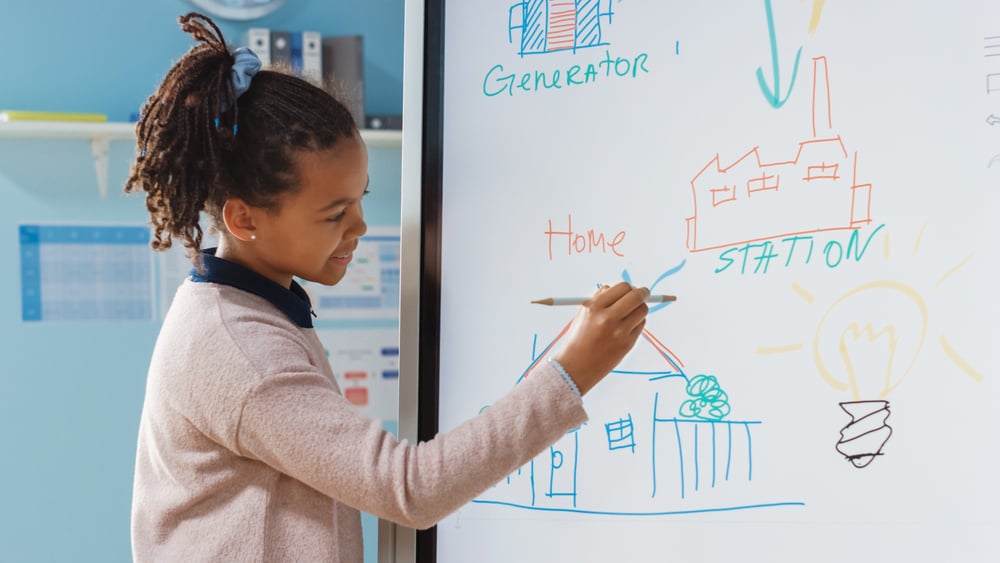 What is a Digital Whiteboard?
Before we go any further, we need to learn the basics: what is a digital whiteboard? What can it add to a classroom setting?
A digital whiteboard is a software application or an electronic device that simulates the experience of using a traditional whiteboard. It offers students and teachers the opportunity to share drawings, diagrams, notes, and other visual content in real-time with other users who are either in the same physical location or tuned into the whiteboard remotely
Many digital whiteboards offer a range of valuable education tools and features, such as:
Creativity with different colors

Compatibility with different pens and erasers

The ability to import and export files

Collaboration with others through various channels like email, messaging, and video chat
In addition to being used in a classroom setting, many enterprises use digital whiteboards for team meetings, presentations, brainstorming sessions, and project management. The only limit is your imagination!
How Digital Whiteboards Can Help Make Learning Easier and More Enjoyable for Students
Digital whiteboards can be a valuable tool for educators looking to engage students in the classroom and make learning more enjoyable. Here are a few suggestions for using them with your students.
Create more visually engaging smart lessons
Digital whiteboards allow teachers to create more engaging lesson plans using the multimedia capabilities of this technology. Instead of simply writing on the board or showing static images, digital whiteboards allow teachers to create a multimedia presentation incorporating images, audio, and videos to illustrate complex ideas. This helps appeal to students with different learning styles.
Collaborate with students in real-time
With digital whiteboards, teachers can collaborate with students in real-time, allowing for active participation and immediate feedback. This feature can help students feel more connected to the lesson and can improve their understanding of key concepts.
Reinforce key concepts and ideas with visual aids
Digital whiteboards can help to reinforce key concepts by creating visual aids and diagrams that illustrate complex ideas. By using dynamic colors, shapes, and diagrams that can be altered to suit the particular audience, teachers can help students better understand abstract concepts, making learning more accessible and enjoyable.
Increase accessibility
Digital whiteboards can immediately make learning more accessible for students with disabilities or learning challenges by providing them with alternate ways of engaging with the presented information.
For example, teachers can use digital whiteboards to provide visual aids for students who are hard of hearing or can provide additional context for students who struggle with reading comprehension.
Explore Digital Whiteboards In Your Classroom
By incorporating digital whiteboards into your classroom, you can help create a more dynamic and engaging learning environment that inspires students to participate more actively in their own education.
This opportunity for greater engagement helps to deepen students' understanding of the material being presented and can even lead to improved academic performance.
If you're interested in exploring the benefits of digital whiteboards in your classroom, we'd love to help. The AOP team can work with you to select the perfect digital whiteboard solution for your classroom and will provide support to ensure a smooth setup and implementation.
Don't miss out on the opportunity to transform your classroom into an engaging, interactive learning environment that will inspire your students and help them reach their full potential.
Call us at 377-477-3700 today to learn more.