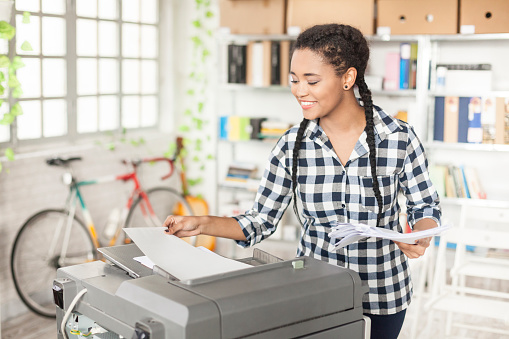 When you decide to lease a copier for your business, the first thing you need to do is research copier leasing companies. This guide will review how to find the right copier leasing company in Lake Charles and the difference in working with AOP.
Company Expertise Matters
The best copier leasing companies have experience working with businesses of all sizes. You are going to need more than a few helpdesk technicians to manage your copier lease. So be sure to choose a company that will partner with your business and also help guide you towards your goals.
AOP has over 30 years of experience helping firms manage their copier leases. We do a lot more than that though – our experts are there to provide you with an outside perspective and give you insights to support your projects.
It's truly a partnership, and we are rated one of the top copier leasing companies in Lake Charles as a result. We consult with you to learn everything we can about your business, which helps us find opportunities for improvements that you might not have considered.
In other words, we work with you every step of the way to ensure your copier makes your business more efficient and effective!
What Leasing Copier Services Do They Offer?
When you look for office copier deals in Lake Charles, you should carefully consider the type of machines they offer. What brands do they partner with? Will you be able to lease the best technology available?
What's most important is that you get the copy machine that helps you achieve your business goals. Whether it's a standard copier or a multi-function printer, the top copier leasing companies should have a wide variety of options available for you to choose from.
Partnering with AOP means that you can lease anything from a reliable laser or inkjet printer to copiers, fax machines, and MFP printers. We also choose high-quality vendors like RICOH, Dell, Konica Minolta, Kyocera, and more, so your business runs smoothly.
You can count on us to keep our technology and machines up-to-date so you will have access to the fastest, most reliable laser copiers on the market!
Consider Copier Lease Pricing
As with any major business decision, pricing is important. Even if you've already done the math and decided that leasing is a better financial decision, you need to consider the cost of working with a specific copier leasing company.
Yes, leasing allows you to avoid a substantial upfront investment, but it's not free. Understanding the pricing structure of the company you work with is essential because it will help you avoid hidden fees or unexpected charges.
For example, does the price of the lease only include the copier? Does it include a maintenance package, or are there several maintenance options to choose from? Do you need to pay for delivery and installation out of pocket? Is it going to cost you to ship the machine back at the end of the lease term?
These are all valuable questions to consider when finding the best copier leasing company. You have to look past the number that they initially offer you.
Similarly, if one quote is substantially lower than the others you receive, find out why. It could be because there are things you need that are not included in the advertised rates!
Since we offer custom-tailored plans and solutions for your business, you never overpay with AOP. You will not have to pay for features and services that don't align with your copier needs so you can make the most out of your budget.
Our copier solutions are both effective and affordable. You will always know what your custom package includes. There is no guesswork about the services involved, and we will make sure that all of your copier needs are taken care of.
What are the Contract Leasing Terms?
In addition to cost, you must also look at how the copier leasing company structures its contracts. You should know what you are responsible for versus what falls on them. There should also be a direct point of contact that understands your business needs and goals.
The worst thing that could happen is that your copier malfunctions during a pivotal time in your business, and you can't get a hold of anyone at the leasing firm!
Working with AOP means you become a business partner, and your success is our success. We will always be available to help when you need it, and the process is simple and straightforward.
If you are looking for the top office copier dealer in Lake Charles, look no further than AOP. Our goal is to use our years of experience and business expertise to understand your needs, then offer affordable solutions to help you achieve those goals.
Contact us today to get started with Leasing services!