Five Steps to Ensuring Data Continuity Before a Hurricane
If there's one bitter pill that we've all have had to swallow in 2020, it's that everything can change in an instant.
In just a few short months, we've seen disastrous outcomes caused by bush-fires in Australia, an earthquake in Puerto Rico, flooding in Dubai and Indonesia, and a global pandemic that has killed nearly half a million people (100,000+ in the U.S. alone) and ravaged economies.
And those are just the things we weren't expecting. Fortunately, there are some natural disasters that allow ample time to forecast for disruptions and plan accordingly.
If you happen to live in an area where hurricanes are an annual threat, you know that we're currently catapulting toward the thick of hurricane season, the annual period between June 1 and November 30 when Atlantic-based storms are most likely to occur. While personal checklists that include stocking up on water, canned goods and flashlights are plentiful, resources advising businesses on planning accordingly — particularly when it comes to preparing the office's data functions — are scarce. And that's where AOP can help.
Read on to find our four pillars of a good data continuity plan to prepare your office for hurricanes.
DOWNLOAD OUR FREE HURRICANE PREPARATION CHECKLIST
Confirm backup statuses
As a reminder, there is a difference between a hurricane watch and a hurricane warning. The former means that sustained winds of 74 miles per hour or higher could happen in an area, while the latter means those winds are expected to happen. In any event, you should have between 36 and 48-hours' notice, depending on the designation. Yet, none of that matters if you're scrambling the night before the storm, which is why our first pillar is to confirm backup statuses.
This action would include working with your managed IT services provider to ensure that backup functions for your most important data are still in working order. A good provider should be automatically backing up your disks with full-service backups at regular intervals and with an up-time that is virtually 100%. Lastly, you'll want to double-check that your data can be backed up just prior to the storm's arrival so that you can be confident about its safety.
Run manual backups on all databases
Practices makes perfect, right? If you expect your backups to go off without a hitch when you really need them to, it's a good idea to take the time for a few dry runs. Pick an evening or a weekend when you can afford to manually run your backups. You'll want to select a time where a disruption in service won't be detrimental to the business or your customers.
When performing this manual backup, think of it like a fire drill and take it seriously. Here are 9 steps to take as part of this process:
Turn off and unplug any printers.
Save your work, turn off and unplug desktop and laptop computers.
Call your service provider to turn off your servers. Once servers have shut down, unplug them.
Turn off and unplug your network switch.
Turn off and unplug your firewall or router.
Unplug telephone handsets.
Turn off and unplug your telephone system.
Turn off and unplug your internet provider's equipment (cable, DSL, satellite, or T1 modem)
Unplug and turn off all surge protectors and battery packs for all devices.
Once that is complete, work with your IT partner to manually run backups and move on to the next step.
Test restore backups
It's a bit of a script reversal, but what goes down must come back up. And the only way to verify that the systems that could be wiped out in a storm are capable of reverting back to the state that you need them in is to test. After the backup test has been completed, you'll want to review your files and folders to confirm that everything is back and operational. The last thing you want is to learn that essential files are corrupt after a storm hits and it's too late to retrieve them.
Label your cables and chart how everything connects
Knowing how your office hardware connects is valuable for a great many reasons however it becomes critical if you are faced with reassembling a disheveled office. By physically labeling the hardware and cables that make your office operational, you ensure correct reassembly and eliminate unnecessary downtime. Charting these connections also aides in correct reassembly should any labels or items end up missing.
Take inventory of your assets
Now that you have confirmed the statuses of your backups, practiced backing up and restoring your files, and charted how everything connects, it's imperative that you take inventory of your assets. Failing to track these files and folders could leave you ill-prepared to run the business in the event of a hurricane. Your server provider should give you searchable access to create a tracker of these assets that you can use to cross-reference when you perform your next backup.
AOP has a team of network, data and document solution experts who are more than capable of helping you build and execute a data continuity plan for hurricanes. By working with AOP and following these four steps, your data (and your business) will be safe and secure.
Our specialists are available to provide a 30-minute technical consultation to business owners for no charge. Interested in learning more? Request to schedule your consultation today.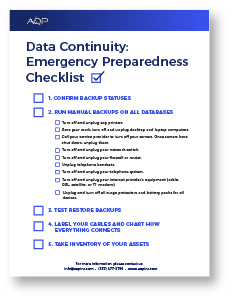 DOWNLOAD OUR FREE HURRICANE PREPARATION CHECKLIST