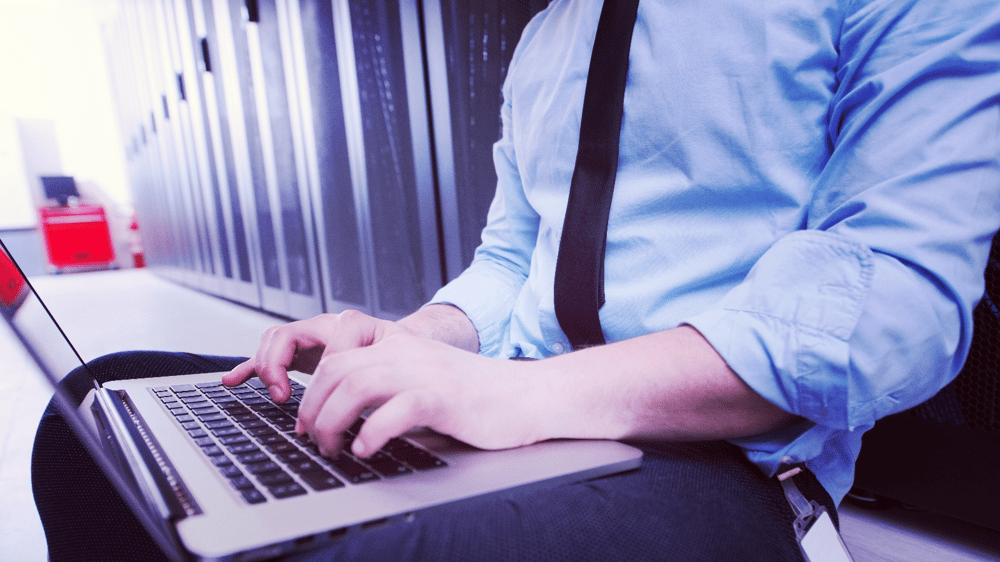 So what is virtual desktop infrastructure? VDI is a term that refers to virtual machines (VMs) used to host and manage virtual desktops (VDs) on a centralized server. It serves as the underlying architecture of a desktop PC, consisting of the hardware, operating system, and installed programs.
Inside the VDI is a hypervisor or virtual machine monitor (VMM) to operate VMs at optimal capacity while sharing the same memory and processing. The VMM splits up servers into VMs accessible to users from any device or location via a connection broker.
What does VDI do?
The applications are encapsulated into a file along with the hypervisor, which enables the VDI to run on any compatible systems, including Windows and Linux. This data from the virtual PC is then transmitted onto a physical server, moving from one hosting server to the next.
The main server is often placed inside a data center or a computer room to handle user requests in the hosted environment. It's safe to say that the backend systems coupled with local client devices make up the VDI.
In many cases, shared storage is a more practical option, given that systems will often move hosts while the VM is still active. Likewise, it improves the infrastructure through load balancing and preserved resilience.
Devices Supported by VDI Integration
Thin Client: It does not run on much power and is equipped with USB ports for reaching out to peripherals with a long lifespan to boot. A thin client is a low-cost, reliable option, providing a VM that connects to a network.
Laptop: Built from various hardware components, laptops can be used anywhere that has a Wi-Fi connection. The screen, keyboard, and mouse are one unit, a less bulky version of the PC.
Mobile: VDI lets users run VMs on mobile tablets and phones. Examples include iOS, Chrome OS, and Android. The smaller screen size does limit VDI sessions, making apps harder to see on a lower resolution.
Among these devices, all software updates take place on the backend to keep devices compatible with newer versions on the market.
When virtual PCs can migrate freely among different hosts, even onto third-party servers, users can work on site projects outside of the office. And that is how cloud computing was conceived, to generalize virtual PCs' mobility on shared secure hosting.
VDIs are present in two forms: Persistent and non-persistent.
A persistent VDI saves existing changes made even if the internet gets disconnected. This environment is best suited for customized desktops the user will revisit every time they log on. A good example would be your personal PC or laptop at home.
On the contrary, a non-persistent VDI is more cost-efficient because it does not save any changes between desktop sessions and spends fewer resources on server maintenance than the former. As a result, PC units can be easily replaced in case of update failures.
It is preferable in organizations where many employees are assigned to limited and repetitive tasks without the need for custom PCs. This article primarily deals with non-persistent VDIs being introduced into workplace settings.
By and large, centralized servers offer greater flexibility, heightened security, user-friendly navigation, and of course, faster performance.
Its streamlined management makes patching, updating, and configuring settings a breeze no matter how many desktops are synced up to the system.
As companies began implementing hyper-converged infrastructure (HCI) into their cloudware, VDIs became easier to deploy on modern systems, providing affordable scalability like never before seen.
What are the advantages of adopting a VDI solution?
Here is why your company needs a VDI service provider: It bypasses the steps necessary to install and upgrade desktops or troubleshoot for bugs on individual monitors, making desktop management less of a chore. Standardized desktops are identical across the board.
For one, it lets employees store all their tools and applications on a VD and retrieve it from any remote location through a cloud-managed service. VDI solutions are relatively low maintenance, allowing desktops to be restored to a state before they were infected or irreparably damaged.
Once VDI is integrated on the backend, it also can support BYOD environments so users can access their files straight from the cloud on any laptop or smartphone. The remaining data on the server is wiped from personal devices after each session as a security measure.
A summary of the real core benefits:
Deploy PCs much faster

Reduce power consumption

Safer backups by IT admins

Store data on the network
VDI automates routine admin duties such as scripting customer service calls and delegating workflows within an agile development cycle. The end goal has always been to optimize human-computer interactions through a mouse, keyboard, printer, and other devices.
That being said, VDI should not be confused with desktop virtualization, a broader term that describes the technology for separating VDs from the hardware component behind them.
A VM is different--it acts upon VDI by partitioning the centralized server into multiple virtual servers to power user applications. In other words, whenever you open a browser or an application, you're actually interacting with the virtual PC itself.
How IT Deploys VDI Software for Server Maintenance
VDI software is recommended for any company with more than 100 VDs. These are stored in an HCI environment, potentially affected by network performance. As such, IT personnel are encouraged to monitor internet usage and respond to demand spikes accordingly.
Restore Previous Versions
It is just as crucial to prevent a loss of data. Fortunately, VDIs provide a continuous backup of VDs for every user. Does your VDI have a self-resetting function? While optional, it still falls under rollback settings and shouldn't be neglected.
Allows

Resource Management

The IT department must track the performance of VDs on a large scale to minimize overall resource consumption per device. Most VDI services allow you to test a mock VDI deployment to determine if all resources are correctly partitioned before you launch it on the server.
Handling User Requests
It's equally vital that you understand your end user's responsibilities and whether they need a persistent or non-persistent VDI setup. Think about configuring your cloud-managed servers to maximize your team's productivity.
They will need to modify files, communicate with other departments, send in products for testing, or access certain apps. Don't forget to factor in the on-boarding process for new hires and create a blank slate environment on their designated VD.
Which users are required to customize their desktops to get the job done? And are they expected to use resource-intensive applications instead of simply browsing the web to check their email?
These are just some things to consider before you make room
within

your IT budget.
VDI Virtual Desktop Aims to Delivers a Better User Experience
VDI trumps over conventional PCs in terms of user experience due to its scalability in deploying many desktops from a centralized server. This deployment is both lower in cost and takes less time.
Latency is akin to the response time of the server. Although VDI has greater latency than a traditional desktop, it hasn't been a massive problem in most workplaces, thanks to faster internet speeds.
Take into account the refresh rate of your cloud server. When users try to watch videos or download large files, it consumes a lot of memory. You can get around this by upgrading your desktops' graphics cards to get rid of the delays.
In VDI sessions, there may be some audio issues, which are caused by back and forth transfers between the user's computer and the hosting server. To fix this, you'll have to adjust the VM client and monitor the CPU for sudden spikes.
Limitations of VDI
There is a catch, though. VDI won't perform well in areas with a poor internet connection. The same is true under less than ideal conditions, for example, in areas with higher latency or a lack of bandwidth.
Aside from that, VDI has display issues on smaller screens because VDs must meet a minimum resolution size to run optimally. That's why IT organizations recommend tablets to ensure device compatibility on all available apps.
It may not be worth the trouble to invest in VDI if your business has fewer than 100 employees. However, it is a must-have for midsize to enterprise companies to help IT admins keep VMs under control and avoid facing downtime.
VDIs allow businesses to enjoy these services to the full extent, should they ever decide to make that innovative leap.