Managed print services (MPS) are increasingly essential in driving business efficiency. This holistic approach to printing involves an external company overseeing all aspects of your business printing needs, including devices, processes, and document security.
Despite the importance of efficient printing, many businesses don't take advantage of managed print services, instead preferring to keep their operations in-house. This means that they have to deal with high costs, inefficiencies, and security risks associated with traditional print fleet management alone.
Learning about the benefits of MPS can help make it easier to contemplate a switch. We'll show you how partnering with a managed print services provider can help streamline your print operations, enhance security, and lead to more cost-effective printing that improves your bottom line.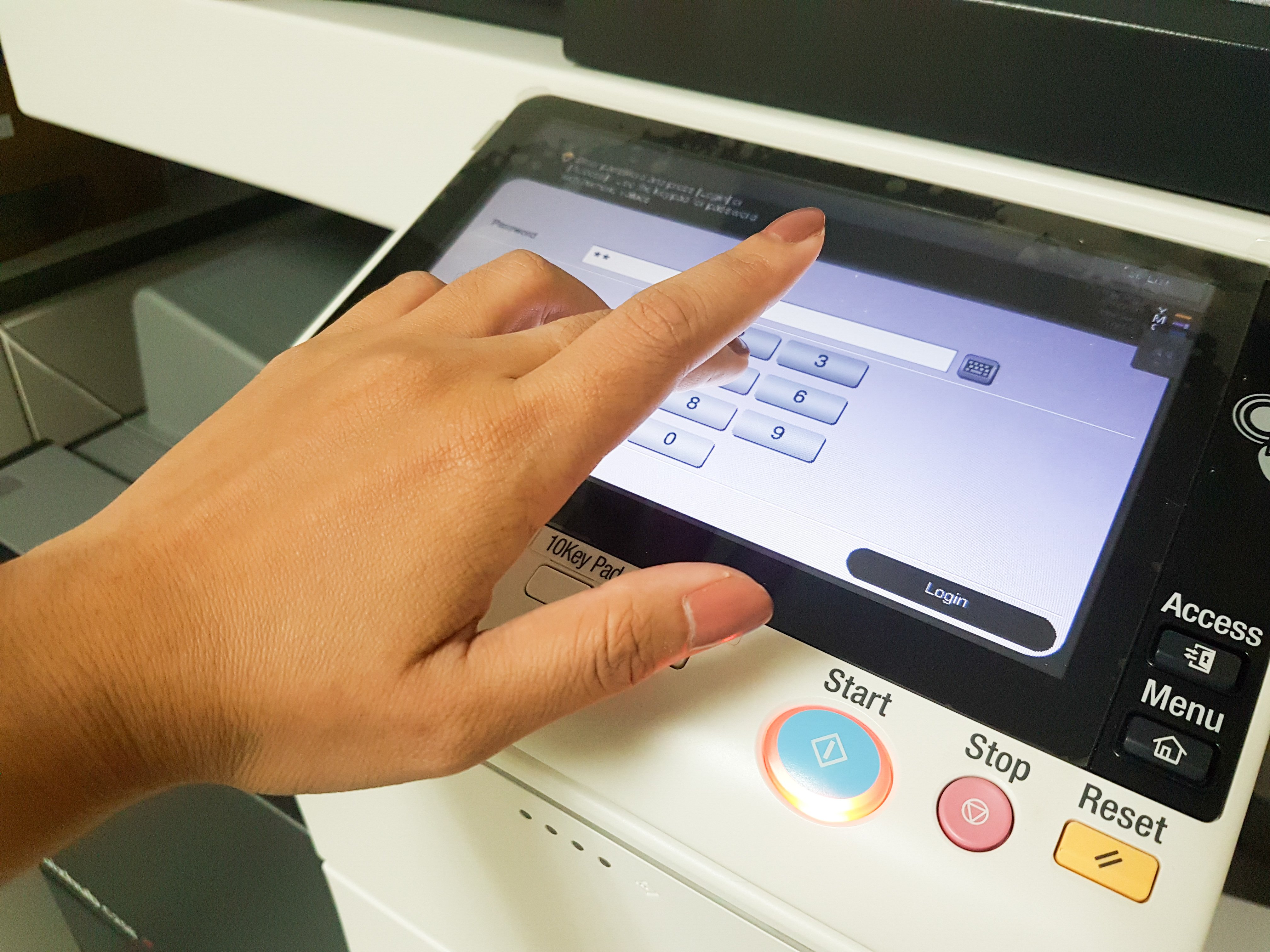 The Importance of Efficient Printing
Efficient printing is more than just a luxury – it's a necessity for modern businesses. Purchasing, setting up, and managing a traditional printing system can be very burdensome. According to research from Gartner, spending associated with printing devices and services can eat up as much as 3% of a company's overall revenue. Businesses will encounter many issues that can not only drive this number up but also impact the quality of their day-to-day work environment.
Hidden costs: Some typical hidden costs related to traditional printing include maintenance, paper, ink, or toner expenses, and the time spent by IT staff resolving printing issues.
Excessive waste: If your printing environment is confusing and prone to errors, it can easily cause excessive paper usage and unnecessary energy consumption. These expenses may not be immediately visible but definitely impact your bottom line.
Environmental impact: An inefficient printing environment causes waste, but ultimately, the more significant danger is to the planet. The environmental impact of this avoidable energy consumption and paper use can hamper any other efforts a business makes to be more sustainable.
Productivity loss: Beyond monetary costs and environmental impact, inefficient printing can seriously sap productivity. Consider the time and resources spent on tasks like replacing toner, fixing paper jams, and troubleshooting software issues. In an era where efficiency is paramount, these mundane tasks can divert resources and focus from essential strategic operations.
By opting for managed print solutions from a trusted provider, businesses can leverage technology to optimize their print environment, significantly reducing costs, enhancing productivity, and contributing to improved environmental sustainability.
What Are Managed Print Services?
Before we go any further, let's make sure we're on the same page about managed print services.
Managed print services (MPS) are a comprehensive suite of services external providers offer that help optimize your company's document output. By leveraging MPS, you can enhance the efficiency and effectiveness of your printing devices, including printers, scanners, fax machines, and copiers. This maximizes efficiency and productivity while minimizing waste.
One critical advantage that MPS providers can offer is print optimization, which involves employing the right combination of cutting-edge hardware and software solutions to suit the particular needs of your business. Print optimization ensures the most efficient ink and paper usage, leading to significant cost savings for your organization.
Print fleet management is another key element of MPS that providers can offer. This involves the experts you hire providing continuous monitoring and maintenance. This proactive approach helps prevent potential downtime and boosts overall operational efficiency by ensuring that your printers always operate at peak performance.
The Benefits of Managed Print Services
Investing in managed print services offers substantial benefits that can significantly impact your organization's bottom line.
Cost savings
One of the most notable advantages lies in cost savings. MPS can decrease your print-related expenses by optimizing print infrastructure and reducing paper and ink usage. These savings are not just short-term but offer ongoing financial benefits, allowing for a greater allocation of budget resources toward strategic business initiatives.
Security
Implementing MPS can also meaningfully boost security. With enhanced data protection measures such as secure printing and encryption, MPS fortifies both the physical and digital security around your document workflows. This can be particularly valuable in sectors like healthcare and finance, where confidentiality is paramount.
Efficiency
Perhaps the most transformative benefit of MPS is the efficiency it injects into your document workflows. MPS makes the entire document workflow more efficient, from the initial creation of a document to its final printout. This increased document workflow efficiency can free up valuable time for your staff, allowing them to focus on their core responsibilities rather than dealing with ongoing, irritating printer issues.
Implementing Managed Print Services Within Your Organization
Implementing managed print services in your organization is a strategic process that involves careful planning followed by tailored execution. Here are the steps your organization can expect when working with a new MPS provider.
Provider Selection
Choosing an MPS provider is a critical step. The organization you partner with should have access to cutting-edge technology and provide the relevant expertise. This is an essential benefit – since you're working with a specialist, they should be able to demonstrate that their team has specialized knowledge. The organization should also be able to show how they stay ahead of the curve in print technology to ensure you always have access to the most effective and efficient solutions.
Additionally, any MPS provider you partner with should be able to demonstrate a good understanding of your business needs and industry-specific requirements. Without that, it's hard to provide solutions that are more than quick fixes.
Once you've selected a few options in your area, conduct some interviews. Then, pick the provider that offers the best combination of resources and availability.
Evaluation
The first step in working with a new MPS provider is an evaluation. Your new partner will want to understand what they're working with. This begins with an assessment of your current print environment, including factors like:
Average print volume
Available devices
The types of documents being printed
Current costs
Your new partner will also look at the overall performance of your existing printers, scanners, and other devices and assess whether they're meeting your current needs. This thorough assessment will provide valuable insights into areas of inefficiency and waste that must be addressed.
Implementation
The implementation process begins with the rollout of your new printing strategy. Your MPS provider will devise a plan tailored to your organization's size, business needs, and current print infrastructure. This includes migrating your existing print operations to the new system, installing the necessary software, and ensuring your hardware is optimized for your print needs.
From there, conducting employee training is crucial to ensure your team understands how to use the new system effectively. This not only aids in a smooth transition but also maximizes the benefits you gain from your external partner's expertise.
Addressing Implementation Challenges
Understanding and patience are key to a smooth implementation process. Like any major organizational change, MPS implementation may come with challenges. This could include resistance from staff, a need for ongoing training, or growing paints with new software and hardware.
Let's explore these challenges and show how to address them effectively.
Technical issues
Integrating MPS into your existing IT infrastructure can easily pose a technical challenge. This can be mitigated by working with a provider who offers robust support and guidance throughout the implementation process. They should assist in identifying compatible hardware and software and work closely with your in-house IT team to ensure a seamless integration with your existing systems.
Data security
While data security typically improves with a switch to MPS, the transition period can be precarious. For this reason, choosing the right provider is critical. Your MPS partner should offer top-tier security measures and remain compliant with industry-specific regulations to protect your sensitive data.
Don't be afraid to ask questions about security during the transition when you first interview providers. The company you choose should be able to address your concerns and demonstrate how they will protect your data at all stages of the implementation process.
Cost
Finally, let's not overlook the cost. Although MPS results in cost savings over time, the initial investment may be substantial. To justify this expenditure, it's essential to consider the long-term savings and efficiency gains MPS will bring to your organization.
While these challenges may seem daunting, the right MPS provider will guide you through the process, ensuring a smooth transition and long-term success.
Enjoy Better Managed Print Solutions with AOP
Managed Print Services (MPS) represent a significant opportunity for businesses to optimize their print environment, drive cost savings, enhance efficiency, and improve data security.
The shift from traditional print management to MPS may be challenging, but by carefully selecting the right provider, your organization can gain an effective partner who will work with you to develop a custom proposal, implement it effectively, and provide robust support throughout the transition.
At AOP, we specialize in helping businesses revolutionize their print operations so they can reap the rewards of a more efficient, sustainable, and cost-effective printing system.
Seize your opportunity to enhance your print optimization and efficiency with our team today.