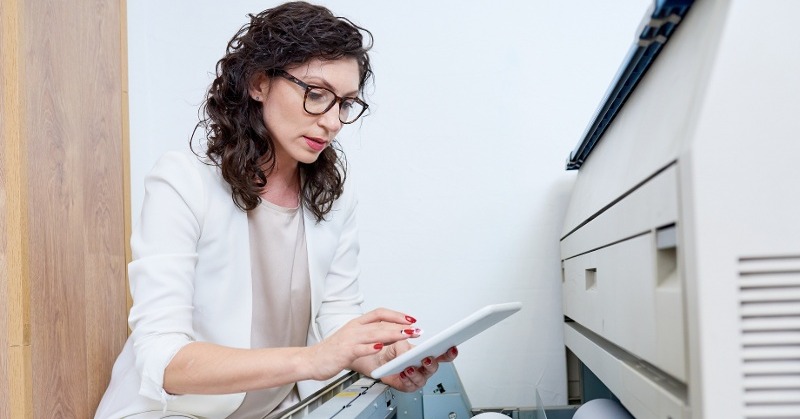 In today's tech-focused business environment, companies must take advantage of every opportunity to optimize their operations and maximize efficiency.
One area that can represent significant optimization potential is a company's printing infrastructure. By streamlining workflows and managing resources, companies can achieve significant productivity gains and cost savings.
However, accessing superior technologies and developing better workflows is extremely challenging in-house. Instead, many successful companies engage a third-party partner to provide managed print services (MPS).
Today, we'll showcase the benefits of using managed print services within your business and explore how they can help your team achieve critical operational and financial goals.
What are Managed Print Services?
Managed print services are an outsourcing solution that allows businesses to delegate the management and oversight of their printing environment to a third-party expert.
Providers like AOP that offer managed print services deliver a variety of features, including:
Monitoring and optimization of devices

Proactive maintenance

Supply management

Streamlining printer workflows

Analysis of printer data

Troubleshooting

Employee training
In the past, the work of sourcing printing equipment, managing day-to-day printing workload, and troubleshooting issues would have been entirely conducted by in-house teams.
However, the rise of managed print services has allowed businesses to partner with experts who can evaluate their needs and provide a custom solution tailored to their budgets and goals. This personalized approach ensures businesses only pay for the services they use.
The Benefits of Using AOP as Your Printer Partner
When you work with AOP as your managed print services provider, we handle every aspect of your printing, from sourcing printers and other devices to ensuring the ongoing security of your data. We confirm everything is set up correctly and can collaborate with you to design a workflow that ensures ongoing productivity and efficiency.
Here are some benefits organizations can expect when partnering with AOP for your managed printing solution.
1. Reduce costs
One of the main reasons businesses are drawn to MPS is because they're tired of dealing with unpredictable printing costs, exorbitant capital expenses, and general performance that isn't optimized for their needs.
By partnering with a third-party provider specializing in MPS, businesses can reduce costs and ensure their expenditure remains consistent. Regardless of the pricing model you choose, we work hard to optimize your printing environment, saving you money on each print job.
2. Improve printing and operational efficiency
Improved printing optimization and efficiency don't just save your business money. It also requires less output from your machines and reduces wear and tear, improving the longevity of your hardware.
Improving operational efficiency also helps to boost productivity. When printing documents is simple, it's easier for your team to finish work.
3. Enhance information
Many businesses make the mistake of underestimating the gaps in security that poorly configured printers can cause. One 2022 study found that 68% of printer-related security issues went on to cause data loss. Overall, it's estimated that less than 2% of business printers are genuinely secure.
To ensure ongoing informational security at every level of your company, your printer network must be configured securely.
The AOP team can help evaluate the security of your existing network and make changes that ensure your processes meet ongoing compliance and document security requirements.
4. Improve environmental footprint
Your MPS provider can offer many tips and techniques for helping to reduce your business's environmental impact. Your provider can ensure a more environmentally friendly printing process by decreasing paper usage due to fewer errors, consolidating devices, and using more energy-efficient printers.
Additionally, they may also be able to help you implement a more effective recycling program, ensuring any misprints or documents printed in error are dealt with more sustainably.
5. Make better decisions with enhanced analytics
Working with a managed print services provider gives businesses much greater visibility into their printing environment. This visibility helps to facilitate better data-driven decisions.
For example, MPS providers can offer businesses detailed reports on their printing activity, providing valuable insights into how the company utilizes its current resources. From there, it's much easier for businesses to understand their needs and identify areas for improvement and optimization.
Explore AOP's Managed Services Today
Businesses looking to reduce costs, improve efficiency, enhance security, and reduce their environmental footprint owe it to themselves to explore the services a managed print services provider provides.
AOP's MPS solutions provide businesses with a wide-ranging suite of features, including device management, proactive maintenance, supply management, and detailed reporting and analytics.
Our expertise allows clients to enjoy the benefits of more streamlined and effective printing, so they can refocus their attention on what matters most – their staff and customers.
Contact us today to learn more about how our comprehensive MPS solutions can benefit your business.