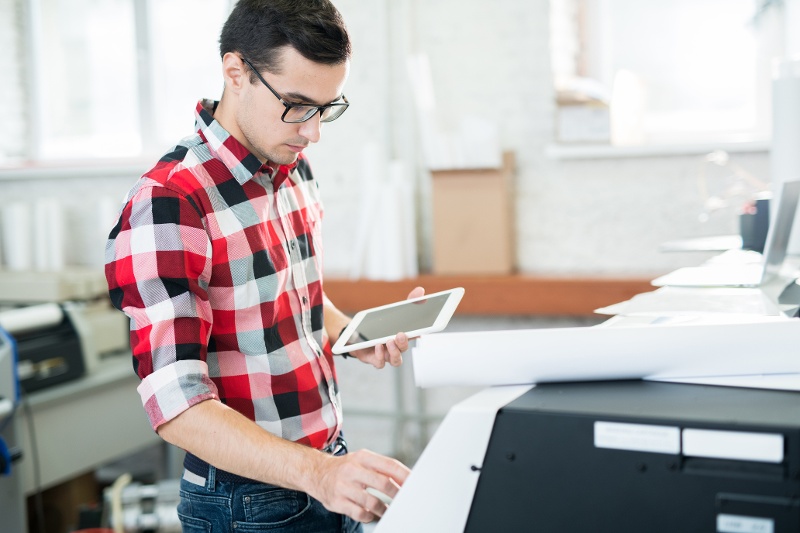 For many businesses, printing is the quiet backbone that keeps everything ticking along. Whether that's a single printer or a hard-working network of dozens, printing devices support the day-to-day operation of most businesses.
However, managing and maintaining these devices is a complex and time-consuming task that can easily pull resources away from core business goals. That's why we're so proud to offer managed print services (MPS). This service gives businesses everything they need to manage, streamline, and troubleshoot their daily printing tasks.
Whether you're a small business or a legacy company with complex, dynamic printing needs, we've got you covered. Let us explain everything you need to know about managed print services.
What are the Benefits of Managed Print Services?
Businesses can gain many benefits when they opt for managed print services instead of handling their printers in-house.
Here are some company benefits you can expect when pursuing MPS for the first time.
1. Reduced costs: MPS providers can help lower capital expenses by providing better rates on equipment. Plus, their expertise helps decrease mistakes and make printing more efficient, saving money across the board.
2. More efficient printer operation: When printers are being managed by experts, they can ensure they run with much greater efficiency. This saves money and improves office productivity.
3. Reduced environmental impact: With fewer misprints and more efficient operations, your office can easily use less paper, power, and other resources, lessening your impact on the planet.
4. Better data on performance: Your printer systems provide a huge amount of information that can be analyzed and used to make better data-driven decisions. An MPS provider can help you harness it, putting it to work to support your business goals.
5. Enhanced security: It's estimated that less than 2% of business printers in operation today are secure. This leaves a huge data security gap that bad actors can exploit. An MPS provider can help set up cybersecurity and data-handling practices that keep your organization secure.
How to Get Set Up
If your printing environment has grown in complexity, or if you're simply dealing with a network of printers that should be more efficient, it's probably time to call in the experts. However, getting started finding a managed print services provider can be a bit intimidating.
Let's walk through what you can expect from this process and the ideal steps you should take to ensure your printer network runs more efficiently.
Find the Right MPS Partner
Many IT businesses offer managed print services today. However, finding the right partner for your needs isn't as simple as choosing the first company you connect with.
As you search, ask your potential MPS partner questions to determine their approach. Some helpful questions include:
What other clients do you serve?

Do you have a focus on any specific industries?

What's included in our Service Level Agreement (SLA)?

What do you think of our existing equipment?

Can you help improve our printer and data security?

How can you support our mobile workforce?
Print Assessment
Once you've determined the right fit, you can move forward with your chosen organization. The first step they'll likely take is a print assessment. This is where your new MPS partner evaluates your current printing environment. This includes an inventory of existing hardware infrastructure and an evaluation of your employees' technical knowledge.
The MPS company will also track your printing workflow and ensure they are fully aware of the needs and goals of your organization.
Proposal Development
Once your MPS partner has a good sense of your workflow, your business needs, and your current inventory of printers and other devices, they'll get to work developing a proposal. In it, they'll lay out their strategy for improving and securing your hardware and workflow and provide a step-by-step implementation plan.
Once their plan is complete, they'll schedule a time to review it with your organization's stakeholders. Once there's buy-in on both sides, they can move to deploy their plan.
Deployment
Once your company has developed and approved the plan, your MPS will get to work. From installing and updating new printers to reconfiguring your workflow, they will do their best to move quickly and avoid disrupting daily operations.
Review and Refine
Once your new managed print services have been set up, the MSP experts will review the installation and workflow to ensure it works as expected. From there, it should be good to go! Many MPS providers also offer staff training to ensure everyone knows how the new system works.
From there, the relationship with your MPS partner is ongoing. You can reach out with questions or concerns, and they will be there to review data analytics and troubleshoot as needed.
AOP Provides Customized Managed Print Services
At AOP, we offer a comprehensive suite of managed print services designed to help businesses refocus their attention on their business. Our team of experts can assess your current printing environment, identify areas for improvement, and develop a customized solution tailored to your specific needs.
Whether you want to reduce costs, increase efficiency, or improve security, we have the expertise and resources to help you succeed.
Get in touch today to learn how we can help you take control of your printing and maximize your business potential.