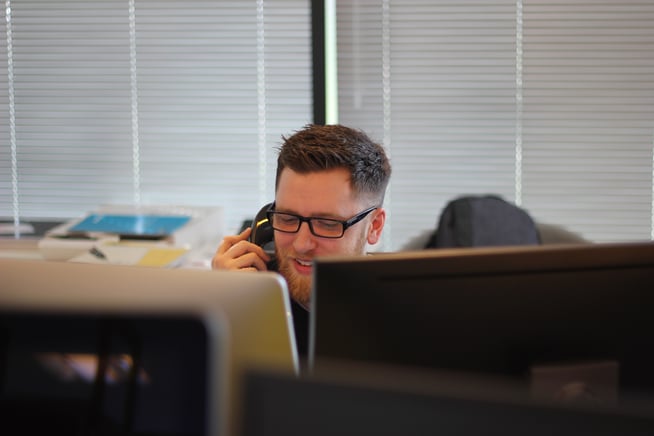 Anyone working with computers will be familiar with this scenario: you are creating an important presentation only for the screen to go blank and your work to vanish. The next step is usually a call to your company's IT helpdesk, hoping that there is a simple solution that saves your work.
While not all businesses depend on intricate IT solutions, few can operate without any IT services at all. As a consequence, IT support needs to be a consideration for any business owner or manager.
Apart from waiting for distress calls from employees, IT helpdesk support can contribute much more to the success of a business. This support does not have to come at great expense either. Here is a closer look.
What Is IT Help Desk?
The IT helpdesk of an organization is the interface between the staff of a variety of departments and its IT department. Generally, helpdesks are designed as a single point of contact for users who are experiencing problems with IT devices, software, apps, and more.
Most IT helpdesks are staffed by highly qualified engineers who are capable of handling problems ranging from smaller, individual glitches to full server outages. Depending on the organization, your IT support may be handled by one person. In larger organizations, helpdesks are staffed around the clock - especially if the business has branches in different locations and time zones.
IT helpdesk services are an essential resource for any modern business. It is hard to underestimate the role of the service desk as more organizational processes depend on IT devices.
Although the terms IT helpdesk and IT service desk are often used synonymously, there are differences. Generally, helpdesks work reactively, dealing with problems as they arise. IT service desks, on the other hand, develop and implement the IT infrastructure of a company. They tend to look at the larger environment a business operates in and plan ahead for the future.
Why Does Your Company Need It Helpdesk Support?
Beyond dealing with day-to-day computer problems encountered by the various arms of an organization, a well-functioning IT helpdesk can contribute far more to your company's success by:
Preventing IT problems: Helpdesk engineers are in a unique position as the liaison between IT and all other departments. As frontline staff they are gathering extensive information about the performance of your business' IT systems. This allows them to prevent glitches and larger problems such as server downtime or outages.
Streamlining business processes: IT service desks operate according to best practices set out in the IT Infrastructure Library (ITIL) will not only standardize IT operations. They will also allow your organization's senior management team to plan their IT strategy and track its efficiency. A strong IT infrastructure can lead to better efficiency and ultimately, give your business an advantage over the competition.
Minimizing employee downtime: Few of us can work efficiently when our devices and apps are malfunctioning. IT problems often mean serious downtime for staff and wasted time, missed deadlines, or lost revenue for the organization. A well-organized IT helpdesk most likely operates a ticketing system that prioritizes the more critical IT problems. Depending on urgency, your helpdesk assigns tickets to the relevant engineer and tracks their progress to ensure a smooth resolution.
Managing IT assets: As your organization grows it is easy to lose track of hardware and software assets. With your IT helpdesk set up as a central point of contact for all other departments, it's in the perfect position to manage all related assets.
How To Create An Efficient IT Help desk
The type and size of your IT helpdesk depends both on the size of your organization and the complexity of its IT requirements.
For smaller companies, having one trained and certified IT expert on staff could be enough. Having in-house IT staff gives your team the benefit of having a 'real person' to speak to. Even a very well-designed ticketing system can feel impersonal, especially if the issue can be resolved quickly and easily.
However, as your business and its IT requirements grow, you may need access to a wider variety of expertise than one person can realistically provide. You may also need to organize 24/7 coverage, including weekends, and public holidays.
One way to achieve that is to increase the number of people staffing your IT helpdesk and work in shifts. In fact, in many large organizations, the helpdesk is only a small part of the IT department as a whole.
For example, separating helpdesk support from more involved software development is one way of managing your in-house IT resources efficiently. It allows senior staff with specialized qualifications to focus on complex tasks while the helpdesk fulfills a more customer-facing role.
However, expanding your in-house IT department comes at a cost to your business. It may simply not be feasible or financially viable, especially if you are a growing company. Outsourcing IT support can prove to be beneficial, both operationally and financially.
Why Outsource IT Helpdesk Services?
There are numerous benefits to outsourcing IT services that aren't just exclusive to large businesses. Even if your company is currently small, or a startup, using a helpdesk company is worth considering because your business will receive:
24/7 access: If your company operates in different time zones, having access to IT support around the clock is invaluable. However, in-house support to this level can be costly, whereas using an external company is often more cost-effective.
Extensive expertise at your fingertips: IT covers a wide range of issues related to a company's operations. Combining the knowledge and skills you need in an in-house team can be impractical and expensive. This is where helpdesk companies offer an advantage. Many operate with large teams from a variety of backgrounds. As a customer, this gives you access to technical support specialists with diverse credentials and qualifications.
Self-service: Plenty of the inquiries made to IT helpdesks are relatively simple and easy to resolve. In fact, if you were to compare inquiries between companies it is obvious that many are duplicated. Like frequently asked questions provide information about products and services, self-service IT support enables users to solve their problem without having to wait for an agent. A well-designed support system helps all parties save time and resolve issues faster. Self-service works for common processes, but also to diagnose IT problems and distinguish between those that need higher-level support than others.
Scalability: External IT helpdesk support will grow with your business. As your business expands, you can upscale the services you use. Rather than expanding your in-house team, you may choose to upgrade your contract or subscription. Because of the variety of staff employed by many larger IT helpdesk companies, you also have access to experts in many fields and a much wider skill set than one or two employees could provide. This allows you to address a wide variety of hardware and

software

issues without the time-consuming search for an expert.
Learning from others' mistakes: Whether it is about benefiting from another company's experience or avoiding mistakes others have made, external IT helpdesk support is often the answer. IT specialists work with different businesses from a range of industries. This gives them unique access to information and knowledge your business will benefit from. Most IT helpdesk companies track and report incidents. This allows them to track the causes of problems and avoid them reoccurring. Put simply, you do not have to repeat possible mistakes others have made because you have the advantage of prior knowledge.
Reporting: Detailed reporting is a standard part of contracts with external IT helpdesk companies. This means your management team can assess which parts of your IT infrastructure are working well and where improvements are needed.
Cost savings: Comparing the cost per call or the cost per ticket between having a large in-house IT support team and using external services shows the obvious savings. The financial benefit to your business can be considerable. Alongside scalability and access to a wider skill set, cost savings are often among the most powerful arguments for external support.
Bringing It Support All Together
Outsourcing IT support does not have to come at the exclusion of in-house support. Combining the two is often the best solution. How you combine the two will depend on your individual needs.
One approach would be to use external helpdesk services for standard, simple inquiries. This would allow your in-house team to focus on more complex tasks such as software development or implementing a new IT infrastructure.
However, the opposite solution is also possible. If your business only requires a limited amount of IT support, one in-house expert may be sufficient to deal with most issues. This person gives your team quick, personal access to technical support.
Their capacity can be backed up with external help. This would be the case when an issue arises out-of-hours or if the problem is more substantial. In that case, an IT helpdesk company can become your in-house team's invaluable backup.
In either case, it is worth establishing a working relationship before it is needed urgently. This helps the external IT helpdesk company to understand the needs of your business and support you seamlessly and efficiently.