Managing IT challenges is a struggle that every growing business faces. Handling this expense and responsibility can vary depending on your needs and budget. Still, many companies find that outsourcing their IT benefits their employees, improves their security, and safeguards their bottom line.
However, comparing managed IT vs. in-house IT is essential before making any decisions. Armed with insights from this detailed IT service comparison, you'll be better equipped to make an informed decision that aligns with your business's unique needs and objectives.
So, let's delve into the world of managed IT services vs. in-house IT and compare their benefits, drawbacks, costs, and overall impact on your business.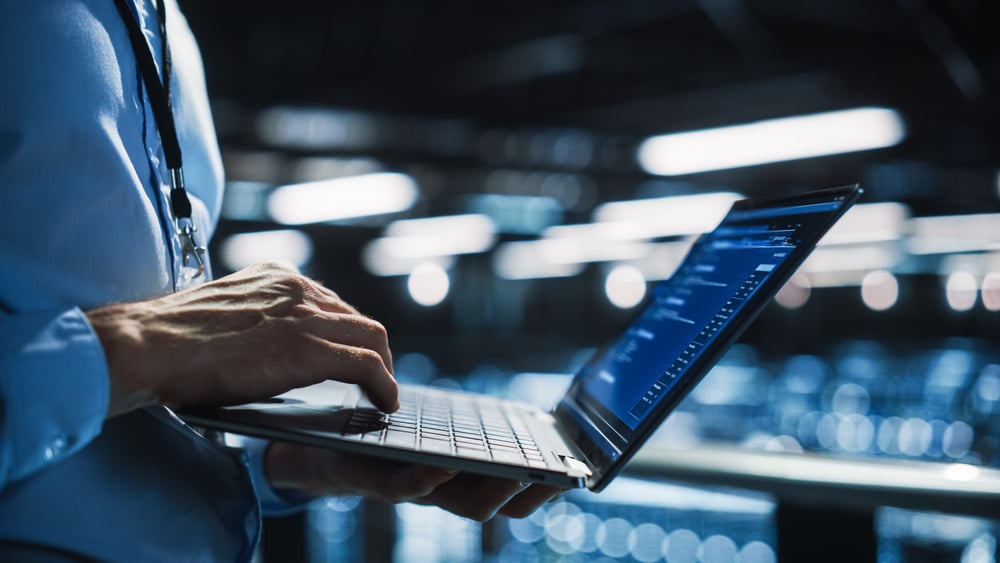 Introduction to Managed IT
Managed IT services are typically provided by external companies, often called managed service providers (MSPs). These MSPs specialize in handling various IT tasks, from maintaining servers and conducting data archival to implementing comprehensive network security measures, including training staff on the latest cybersecurity best practices.
If you hire an MSP to support your business, they will act as your outsourced IT department. They'll take on all the IT tasks that your team doesn't have the time or expertise to handle, allowing your business to maintain its focus on operations and serving customers.
Explore the Benefits of Managed IT Services
Reduced Costs
One of the most compelling benefits of managed IT services is cost efficiency. By outsourcing their IT needs, companies can avoid substantial upfront investments and enjoy predictable, flexible pricing.
Most MSPs offer a variety of packages that can be customized to suit customers' needs, so you're never paying for services you don't use. According to estimates from Intelligent Technical Solutions, a successful partnership with an MSP can reduce IT costs between 25% and 45%.
Expertise
Managed service providers also bring a significant level of expertise to the table. Businesses that outsource IT to MSPs gain access to dedicated experts who are well-versed in the latest technologies and industry best practices. This breadth of knowledge can be difficult to achieve with an in-house IT department since its focus is typically on hiring IT generalists.
Scalability
Another reason to opt for managed IT services is scalability. As businesses grow, their IT needs increase in complexity. By partnering with an MSP, companies can quickly scale their IT infrastructure in line with their growth.
Potential Drawbacks of Managed IT Services
Limited Control
One of the main concerns is the potential loss of control over IT assets and operations. When outsourcing IT, businesses must rely on their MSP to manage critical IT processes and systems and trust that they will handle them securely and comply with industry standards. Ensure you understand how your MSP handles your assets and data before signing any partnership agreement.
Dependency
Another potential disadvantage is the risk of becoming overly dependent on a third-party service. If your MSP experiences issues or disruptions of their own, these could impact your company's operations. Furthermore, the process of switching providers, if needed, can be challenging and disruptive.
Exploring In-House IT
In contrast to managed IT services, in-house IT involves employing a dedicated team within your business to handle any and all IT tasks. This team, which may range from a single employee to a large department, is responsible for everything from overseeing day-to-day IT operations to strategizing and executing long-term technology goals.
However, before you opt for this approach, you should be aware of all the pros and cons of an in-house IT department.
The Advantages of In-House IT
Direct Control
One of the significant advantages of in-house IT is the direct control it offers over your company's IT assets and operations. Companies with an in-house IT team can make real-time decisions about their technology infrastructure, software upgrades, and cybersecurity measures without going through a third-party service.
Customization
Another significant benefit of in-house IT is the ability to tailor IT strategies to the business's specific needs. In-house teams can customize technology solutions, software applications, and security protocols based on their company's unique requirements. This is something that an outsourced service may not be able to offer without a significant budgetary or time investment.
Potential Disadvantages of In-House IT
High Costs
Opting to create your own in-house IT department can be pretty costly. In a cost analysis of IT management, it's been noted that this approach is one of the most expensive. The average salary for an IT manager in the United States is approximately $94,620 annually, which doesn't even include the costs of benefits, equipment, training, and ongoing professional development.
Limited Resources
Individuals hired as in-house IT managers, analysts, and engineers may not have the same expertise as specialized managed service providers. Since they're working for one company at a time, their knowledge may be limited or siloed according to the needs of each company. This means they may not have stayed up to date with the latest industry advances and best practices, making it more challenging for them to step in when advanced knowledge is required.
A Side-by-Side Comparison of Data Managed IT Services and In-House IT
Having explored both managed IT services and in-house IT independently, let's examine them side by side to understand their comparative advantages and disadvantages better.
Cost Analysis
From a cost perspective, managed IT services typically provide better value for money. Outsourcing IT tends to reduce upfront costs and leads to more predictable monthly expenses.
In contrast, assembling an in-house IT team comes with significant costs for hiring, training, maintaining, and upgrading IT personnel and infrastructure.
Control and Customization
When it comes to control and customization, in-house IT typically has the edge. Companies can control IT operations directly and tailor strategies to their specific needs. However, this direct control does come with increased responsibility and time commitments.
Expertise and Scalability
Managed IT services generally outperform in-house IT in terms of expertise and scalability. MSPs bring specialized IT knowledge, access to the latest technologies, and the ability to quickly scale services as a business grows.
In contrast, in-house IT teams tend to have more limited resources and may struggle to keep pace with technological advancements.
AOP Simplifies the Choice Between Managed IT Data and In-House IT
The choice between managed and in-house IT largely depends on a company's needs, resources, and strategic objectives. Analyzing how these key factors affect your business will allow you to make an informed decision that best supports your company's overall growth. Carefully consider not only your business's immediate needs but also your long-term goals when making this crucial decision.
If you don't know how to move forward, it's possible that your lack of knowledge about your own IT could be holding you back. To get a free consultation on the current state of your IT environment and how a managed service provider can help, contact the team at AOP today.
From there, we can show you how AOP will support your IT management strategy and guide you in making the informed decision that will drive your business forward.