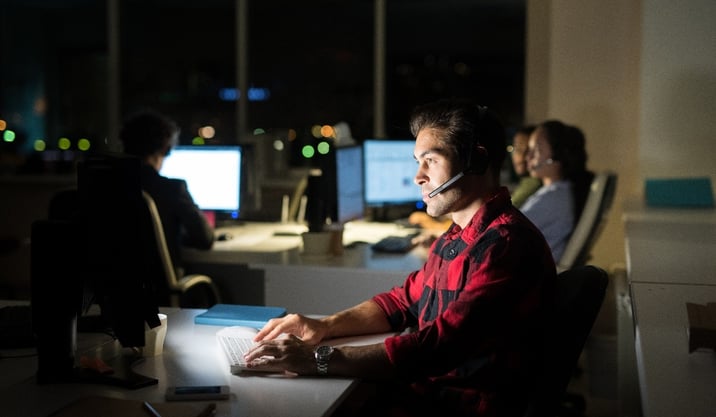 For a small business to employ a small IT team of about four people, it would cost more than $500,000 a year in salaries, benefits, and vacation days. That's assuming that you hire your staff of four and don't experience changes to that staffing where you have to spend time and money on finding and hiring new staff.
And to retain top talent, you'll need to build in increases of 3-5 percent each year in raises. IT outsourcing services can help businesses of all sizes manage their IT budget and provide excellent service to their employees.
Outsourcing your IT department doesn't necessarily mean you don't keep your in-house IT team. By outsourcing certain areas of your IT staffing needs, you can free up time for your IT team to focus on other things and your IT resources can scale to meet your ever-changing needs as your business grows.
As you evaluate whether or not an internal or outsourced IT team is what's best for you, we've summarized the five ways outsourcing your IT department can save you hundreds of thousands of dollars a year.
1. Reduction in Downtime
Using in-house IT resources means you need to manage who is on call and when. You have to get coverage for vacations and adjust on-call schedules if someone gets sick.
It's a ton of work just to manage an IT team to ensure your technology assets are always covered, but then if something goes wrong after hours, you still might have to call in your full team to resolve the problem. And, that might mean paying overtime to resolve the issue.
Instead, with an outsourced IT team, you get to take advantage of 24/7 resources that are constantly monitoring your technology to ensure you don't suffer downtime in the first place.
Downtime can be extremely costly depending on what business you're in. By eliminating downtime, you keep productivity high and ensure that you never miss a customer inquiry or sales request.
2. Savings on Recruiting, Interviewing, and Hiring
On average, it costs a company $4,129 to recruit and hire a new employee, according to the Society for Human Resource Management. Depending on the size of your IT team, that could be cost savings of tens of thousands of dollars per year by outsourcing your IT needs.
Instead, the company providing your IT resources handles its own hiring. And because the company is only focused on IT, it's able to hire experts with many years of experience to service multiple clients so that you get the best of the best when it comes to your IT support service needs.
More experienced professionals mean that your problems get solved faster and the IT support technician can look at the cause of the issue to present it in the future. When hiring an in-house team, companies often are forced to hire generalists due to limited positions and budget for the IT department.
So not only do you save tens of thousands per year on hiring, but you also save money in the time it takes to get your workers back up and running when faced with IT challenges thanks to an experienced team.
3. Scales Quickly Alongside Your Company
Adjust your outsourced IT resources based on special projects, busier times of the year for your business or as your business grows. You don't have this kind of flexibility to increase and decrease working hours for in-house staff the way you can with an outsourced IT team.
If you use only in-house resources for special projects, these projects can take longer than they should. Generally, these special projects are about making your business and IT functions more efficient. The longer they take to implement, the longer it takes to reap those benefits, which means losses in cost savings during that period.
New businesses are uniquely poised to grow at a rapid rate. Without the resources to do so, you might be held back and forced to grow at a slower rate. But outsourcing your IT can allow you to scale quickly while still meeting the needs of your staff.
4. Get Industry Experts Without Training Them
IT needs to fluctuate based on the industry the company serves. Two industries that require special knowledge are health care and legal. In these industries, there are special compliance laws about protecting patient or client information.
Learning the many regulations related to an industry can take many hours of training. And you might even need to call in legal experts to ensure your IT setup meets your industry's rules and regulations.
On average, a company spends $1,252 on training per employee, per year, according to the Association for Talent Development. That's another expense of an in-house IT team you might not have considered. HIPAA training can far exceed this annual expense so health care organizations can especially benefit from outsourcing their IT needs.
5. Time Savings to Focus on More Important Things
You might be surprised by how much time your IT team spends doing security patches, completing regular maintenance and upkeep on equipment, and updating software. These repetitive tasks consume time that your in-house team can put to better use, such as protecting your cybersecurity.
With IT outsourcing, you can free up time for your staff to do other things while still minimizing risks and ensuring that your staff is well-cared for. You won't diminish the level of care you provide as part of your IT support desk by outsourcing it. You'll simply free up your in-house resources to work toward solutions to bigger, more important problems than password resets and general help desk issues.
IT outsourcing does not have to be an all-or-nothing arrangement. Instead, you can outsource the areas of your IT functions that are time-consuming to allow your in-house staff time to focus on other things.
Contact us for more information about how AOP can help with managed network services.