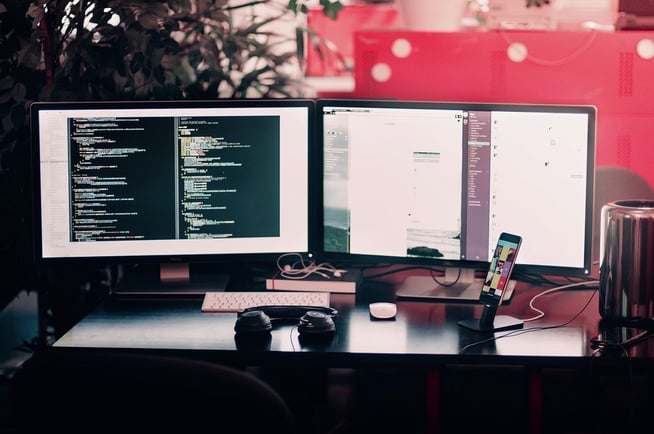 IT services for small businesses are in abundance. There are so many affordable and effective options available, regardless of the niche one's business might be in. However, many small business owners who want to start outsourcing IT don't know exactly where to start, or which IT services they should put into the hands of trusted professionals.
In this quick guide, we'll explore the top IT services that small businesses could benefit from outsourcing. Keep in mind that not every business that utilizes small business IT support will need to outsource all of these services. However, most businesses can benefit from outsourcing some of them at one time.
Why Should My Business Invest in IT Outsourcing Companies?
More and more businesses, regardless of size, are opting to outsource their IT needs. There are quite a few reasons for this. The main reason this practice is popular is simply that IT departments are costly. Businesses with in-house IT teams tend to pour a significant amount of resources into paying their employees and providing them with the right tools and materials. Management for an IT department can also be expensive, and it can cost quite a bit to train and onboard new employees. Small businesses and startups may not have these resources available. IT outsourcing companies tend to be a more affordable and more dependable option. Companies like AOP Inc. can take on a number of IT tasks, such as managed services, network security, support services, cloud services, HIPAA compliance needs, and more.
With an outsourcing company, you can access professional and experienced IT specialists who will take on your IT tasks efficiently-- no need to pay hefty employment costs or spend a lot of time managing your IT team. It's all taken care of once you choose the IT outsourcing company you'd like to work with. Check out our top picks for IT services your small business should outsource below!
The Main IT Services Small Businesses Should Outsource
There are many
IT services

small businesses can benefit from outsourcing. These are our top picks.

Cloud computing is becoming the norm, but many small businesses struggle to make the transition. This is because migrating an entire system to the cloud can be a very complex process, one that is rife with potential risks and errors. It's a necessary move, though. Cloud computing makes it possible for businesses to access their information wherever they might be. To not invest in this would keep one's business in the dark and behind the competition. Outsourcing your cloud hosting migration and maintenance can reduce security risks, reduce downtime, and ensure that the process is executed properly.

Cybersecurity is a major focus for most businesses, especially those that are involved in technology or use quite a bit of sensitive customer information. The best solution to ensure that one's network is secure is to invest in managed network security services from an IT outsourcing company. Such services are very involved and can include services like 24/7 network monitoring, network efficiency audits, installation of firewalls and antivirus software, and the management of cellular internet backup options. One of the biggest benefits to this type of service is that vendors will typically offer a full network audit ahead of time to properly identify any pitfalls or issues your current network may have in order to fix them properly.

Data and document management are a big part of information technology. With an outsourcing company like AOP Inc., you can ensure that your business data and documents are archived and stored securely. Many businesses in all industries are quickly moving to digital-only storage to improve security and reduce storage fees, so this could be an excellent opportunity to start outsourcing your tasks to a trusted partner. In addition to organizing your documents, you'll be able to access a platform that makes it easy to simply search for scanned documents as PDFs. You're not just organizing your documents-- you're creating an entire knowledge base that your relevant teams can use to find information quickly and efficiently.
Infrastructure
Outsourcing infrastructure involves outsourcing a variety of equipment, from hardware to networks, to an IT infrastructure provider. For small businesses that are expected to scale into large enterprises, outsourcing infrastructure could save millions in terms of employment costs and labor. Just as well, you also run the risk of hiring in-house IT specialists that may not be the best at infrastructure development. A trusted IT outsourcing company will have the right professionals with the right expertise on hand to tackle this complex process.
Even with an in-house team, a small business cannot build its own infrastructure easily or affordably. For those without a huge budget, outsourcing infrastructure takes the burden of developing, not just building, infrastructure off the shoulders of small businesses.
HIPAA Compliance
If you operate in the healthcare or medical industry, you likely already know how important HIPAA compliance is. Unfortunately, many small businesses struggle to stay HIPAA compliant and ensure that their patient and client information is completely safe and confidential. For small businesses in this industry, outsourcing your HIPAA compliance needs could be a serious game-changer. Outsourcing companies can implement complete HIPAA policy and procedure strategies that you might not have in place. Just as well, outsourcing companies will continue to refresh these strategies on a yearly basis in the event of a law or regulation change. Automation is also implemented in many cases to make the update and refreshing processes extremely easy. Medical professionals should be spending more time focused on their craft, and outsourcing HIPAA compliance services can take on the tedious tasks associated with compliance.
How was our guide to outsourcing IT services? Contact our team if you're interested in learning more about our services or ready to work with AOP.