Printing and copying are easily some of the most overlooked tasks in an office environment. Even though many offices have transitioned most of their processes to digital, having an excellent printer in your office is still essential.
However, many businesses don't know where to turn when choosing a printer. It's easy to opt for the most cost effective solution without considering your business's needs or what works for your staff.
That's why so many businesses have chosen to invest in multifunction printers. These incredible pieces of office equipment copy and print documents, but that's only the beginning.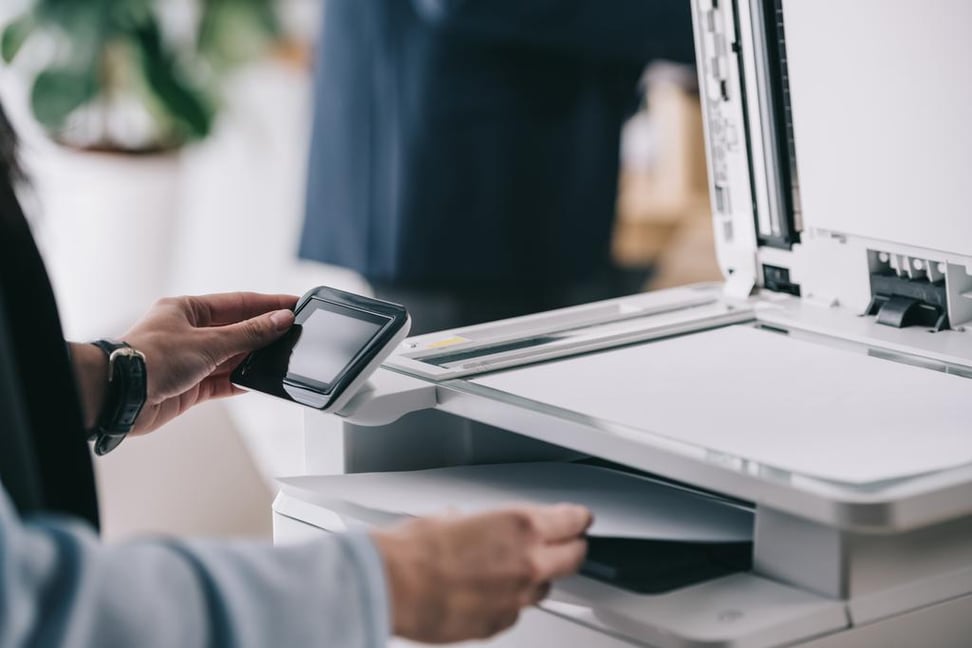 What is a Multifunction Printer?
A multifunction printer goes far beyond simple printing and copying. Many have helpful features like scanning, emailing documents, and printing straight from the display panel. Some can even staple, fold, and create booklets with the click of a button.
These printers create much greater efficiency around your office and can even support the needs of your remote staff by facilitating printing via direct email.
While these machines are a huge timesaver and productivity boost to your office, they are an investment. Most start around $13,000 but can easily cost more depending on the size, capacity, and features you need.
Should Your Business Lease a Multifunction Printer?
To avoid paying the entire capital expense at one time, many businesses partner with an IT services company that leases them their multifunction printer. This way, the business benefits from the IT company's expertise and can rely on them to conduct regular maintenance that could easily overwhelm their in-house team.
This partnership is one of the most significant selling points when
considering leasing
vs. purchasing a multifunction printer.
The Benefits of Leasing a Multifunction Printer
Leasing a multifunction printer offers numerous benefits for businesses of any size and industry.
Here are some ways that leasing can help improve office efficiency and staff productivity.
Cost Savings:

By leasing instead of buying, businesses can save on the up-front costs of purchasing a new machine. Additionally, by partnering with an IT company that can troubleshoot and conduct ongoing maintenance, they can avoid the hefty repair bills often associated with servicing older out-of-warranty printers.

Flexibility:

Many lease agreements allow businesses to upgrade their machines when new features become available, ensuring they always have access to top-of-the-line technology.

Enhanced Document Management:

Multifunction printers provide advanced document management capabilities, such as scanning and sharing documents electronically, making collaborating easier in the workplace. This not only makes documents easier to track and handle but also makes them more secure against threats both inside and outside of your organization.

Improved Productivity:

With multiple devices integrated into one efficient machine, employees can easily switch between tasks like printing, copying, and faxing without needing to adjust settings or wait for a separate device to become available.

Optimized Workflow:

Many multifunction printers have software that allows businesses to automate processes like ordering supplies or managing document security settings. This helps to maximize efficiency and takes this tedious work away from your busy staff.

Simplified Disposal:

When the lease term ends, it's typically the responsibility of the leasing company to remove or replace the multifunction printer. This relieves your business from the hassle and cost of large equipment disposal or resale.
Explore the Benefits of Multifunction Printer Leasing with AOP
Leasing a multifunction printer offers the best of both worlds – access to the latest printing technology without the struggle of purchasing and maintaining your equipment in-house.
At AOP, our experts are adept at working with businesses to offer the best deals on leased multifunction printers. We vet all our vendors thoroughly, working hard to ensure we offer only the most reliable and secure machines.
Check out a list of available printers today and get in touch to learn which one is right for your business.